Credits for this article: Thanks to A3mania.com

Taxes in A3 Can be collected from:
1. Castle Manager (Hideout Manager) - Asten in Temoz - Ilora in Quanato
2. Armory - Yarmmo in Temoz - Kaduru in Quanato
3. Identifier - Petbren, Bentren, Dellua in Temoz - Billero, Yiruk, Wilter in Quanato
4. Healer - TorrBier, Lunita, Elpura in Temoz - Nermarr, Pilpora, Elpuron in Quanato.
5. Storage - Mattera in Temoz - Mecho in Quanato

** Taxes can be only Collected by Shop Owning Knighthoods (Ertakin) or Thol(King) of the Nation.
** Taxes can be Withdrawed only by the respected Knighthood Leader.
** Each Town is Independent. Temoz Shops generate separate Tax compared to Quanato Shops.
** Ertakin and Thol can collect their Individual Taxes. They will not get shared.

** Taxes are generated based on the NPC Activity. Tax is charged only on Items bought from NPC, not the Items sold to NPC.
** The Items bought may include Pots, Body Items, Quivers, Weapons, Runes, Scrolls, Shues, Combination Costs, Identification Costs, Storage Cost, Hideout Auction Cost etc.** The taxes can be collected at any time.

Collecting Taxes:

Taxes can be collected by KH Leader by clicking on the Shop Info Tab under the Open NPC Window. The Tax will directly be transferred to your Inventory.

**Taxation Rights:**

**Thol:
* Castle Manager
* Armory
* Identifier
* Storage
* Healer
**Ertakin

* Eratkins can collect tax from the Shop that they own only.

 

Thol owns the Trade of the Nation.



Castle, Shop Hideouts and Knighthood Hideouts.
Thol - King of the Nation or the Supreme Ertakin.
Netran - KH members of Thol

Ertakins - Shop Owners who posses a single shop.
Hideout

Hideouts are special places for Guild Gathering (Knighthood Gathering). They can be accessed from Castle Managers. Asten in Temoz and Ilora in Quanato.
They have Storage Boxes, which can be used as a common Storage Box for all the Knighthood Members.
A player of a particular town can enter the Hideouts of the same town only.
Each and every Guild comes with a Room Manager NPC, which is used to change the Hideout Settings.

The Leader of the KH can decide the Hideout Opening or Locking. There are few types of settings for this.
* Total Lockout - Hideout is inaccessible to Anyone except the Leader and KH members.
* Total Opening - Hideout is accessible to All the players from the same town.
* Alliance Only - Alliance members and KH members can enter.

Hideout Settings: 

Hideout Management:

* You can Bid your existing Hideout. Once you place the Hideout on the Bid, it will automatically be added to the Auction Hideout List in the Castle Manager.
* You can change the Name of your Hideout to whatever name you like. You will be charged 10,000 Lore for a Name change.
* You need to keep Paying Maintainence charges for your Hideouts. If not, your possession to that Hideout will be removed.
Hideout Manager

Temoz Hideout Manager - Asten
Quanato Hideout Manager - Ilora

** Castle Info

Thols and Netrain can enter the Castle by pressing the OK butting in the Go into Castle. Thol has the Authority to withdraw Taxes from the Hideout Manager.
**Hideout Info

The List of all the Hideouts will be available in the Hideout Info Tab of the Hideout Manager. You can or cannot enter an Hideout depending on the Access Permission set by the Leader of the Hideout Owning Knighthood. Enter your Hideout can be used to enter a "Total Lockup" Hideout. Unused Hideouts are also displayed in this list.

 
**Hideout Auction

Auction Hideouts are listed in the Hideout Auction tab of the Hideout Manager. You can own an Hideout for your Knighthood by placing a bid. When the Bidding Time gets over, the Knighthood holding the biggest Bid will own the Hideout. Instead, you could also instantly purchase the Hideout by paying the Intermediate Purchase Price. You can also receive your Money back if you have lost your Bid by using the Cancel Bid & Receive the contact price.

Types of Hideouts.

***Castle

There are 2 Castles in A3.
* Temoz Castle - RED
* Quanato Castle - BLUE

Each town Castle is owned by Thol of the respected Nation. The Thol and his Netrans have access to the Castle. The Thol can modify the castle setting preventing or permitting the entry of other players into the Castle.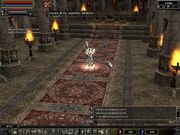 ***Shop Hideouts

Shop Hideouts are available for Shop Possessing Knighthoods (Ertakin). They can use the Go into Shop Option to move to their Hideout. The Leader of the Shop Possessing can impose a lockup so that other players cannot enter the Hideout from the Hideout Manager.


 ***Knighthood Hideouts

Knighthood Hideouts are normal Hideouts that other Knighthoods can posses. These have Maintainence charges. These Hideouts are resalable. They can be bought by Bidding at the Hideout Auction from the Hideout Manager.

 
***Additional Information***


*Castle Information*

Head Authority - Thol
Storage Box Capacity - 400 items.
Kick Foreigner Permission - Thol and Netrains.
Maniatainence Fees - None
Resale - Not Allowed.


*Shop Hideout Information*

Head Authority - Leader of Ertakin KH
Storage Box Capacity - 240 items.
Kick Foreigner Permission - Ertakins.
Maniatainence Fees - None
Resale - Not Allowed.

*Knighthood Hideout Information*

Head Authority - Knighthood Leader
Storage Box Capacity - 160 items.
Kick Foreigner Permission - KH Leader.
Maniatainence Fees - 1 Million for 7 days.
Resale - Resalable.
Credits: a3mania.com
Community content is available under
CC-BY-SA
unless otherwise noted.